Basement Waterproofing, Crawl Space Repair, & Foundation Repair in Greater Hamilton, ON
Your Trusted Contractor of Hamilton, Oakville, Burlington & nearby
What People Are Saying About Omni








If you have a wet basement or crawl space, you need an effective solution from a company whose expertise, reliability, and workmanship is second-to-none. That's exactly what you will get with us.
At Omni Basement Systems, we take care of our customers' leaking basements. Have questions? Just let us know and we will be happy to explain what is wrong, how we will fix it, what impact this problem may be causing your family ... we are here to help. We care about you, your home and your family, not just about solving the problem. After all, we're all part of the same community and neighbourhoods.
Award Winning Contractor You Can Trust

Omni Basement Systems is your local basement waterproofing, crawl space repair, and foundation repair contractor of choice in Hamilton, Ontario. We are accredited with the Better Business Bureau and maintain a consistent A+ rating with the BBB.
We're proud to have won the HomeStars Best of 2011 in Hamilton for the waterproofing category. This award is based on ratings and reviews from homeowners who have hired us in the past. HomeStars presents this award to companies that exhibit outstanding work and service.



We're also proud to be the 2010, 2011, and 2012 Reader's Choice Award Winners for the Flamborough Review in the Service Category. The winners of these awards are determined by votes and our company won for the award-winning service we provide to our customers. If you're not completely satisfied, neither are we. Customer service and satisfaction are our highest priorities. Our goal is to always provide outstanding service to each and every one of our customers.
More than just a Basement Waterproofing Company
We understand that building strong customer satisfaction and relationships are critical in turning satisfied customers into raving fans that provide us with testimonials, references, and referrals. This is why satisfaction and customer service are two of our highest priorities. As a matter of fact, many of our customers are referrals from one of our many satisfied customers.
We have grown, and continue to grow, as a leader in the basement waterproofing industry offering unsurpassed products, services, warranties, and overall satisfaction. We don't just fix basements, we help people! Call us today to get started We service Oakville, Hamilton, Burlington, St Catharines, Kitchener, Cambridge, Guelph, Niagara Falls, Milton, Brantford, Waterloo, Welland, Stoney Creek, Georgetown, Dundas, Grimsby, Ancaster, Jarvis, Hagersville, Caledonia, Cayuga, Dunnville, Port Colburne, Thorold and areas nearby.
As the owners of Omni Basement Systems we feel it is important that we stay involved in the local community. Our business is here, our home is here, our family is here and our customers are here so we do everything we can to give back locally as our business continues to grow. Whether it's a tent sale, an awards banquet, the Peach Festival, sponsoring a local sports team or at other events, you'll see our name.
Affiliations and Partners
Hamilton Chamber of Commerce

Accredited with the Better Business Bureau

Canadian Federation of Independent Business

Hamilton - Halton Construction Association
See All Affiliates
Top Basement Systems Contractor Award for Canada 3 Years in a Row!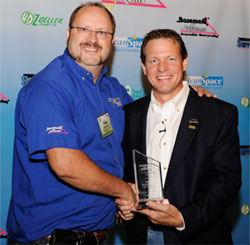 We are extremely proud to have won the Top Dealer Award for Canadian Dealers throughout the International Basement Systems Network. We won this award in 2010, 2011, and again in 2012!
To the right, you'll see me, Pete Karreman, Owner of Omni Basement Systems being presented with this prestigious award by President of Basement Systems, Larry Janesky.
Basement Systems is a network of over a hundred contractors located in Canada, the United States and Great Britain. As members of this network we receive countless hours of technical training as well as exclusive access to patented basement waterproofing, foundation repair, and crawl space encapsulation products.
Ready to Start your basement, crawl space or foundation work?
Call us today at 1-866-875-6664 or Get Your Free Estimate Online! We service Hamilton, Oakville, Burlington, Kitchener, St Catharines, Guelph, Cambridge, Brantford, Niagara Falls, Milton, Waterloo, Welland, Stoney Creek, Georgetown, Dundas, Grimsby, Ancaster, Jarvis, Hagersville, Caledonia, Cayuga, Dunnville, Port Colburne, Thorold, Delhi, Elora, Rockwood, Woolrich, Mapleton and areas nearby.
Looking for a price? Get a no cost, no obligation free estimate.