Foundation Wall Anchors in Hamilton
and Southern Ontario
Warrantied Steel Foundation Wall Anchors for Bowing, Buckling Walls
If you're experiencing structural problems of any kind with your foundation walls, we're the contractors for you. We have solutions for a wide variety of issues, including the following:
Horizontal or Stair-Step Cracking
Diagonal Cracking at Corners
Inward Bowing or Bulging
Walls Sliding Inwards
Walls Tilting Inward At The Top
Permanent Repairs for Bowing, Cracking and Tilting Foundation Walls Using the Geo-Lock Wall Anchor System
When a foundation wall or retaining wall shows signs of bowing, cracking and leaning inward, this type of damage can't be ignored. Pressure from the soil is causing the wall to fail. If left untreated, all these symptoms of foundation damage (cracking, bowing, tilting) are certain to worsen and the wall may collapse.
The good news about this type of damage to foundation and retaining walls is that it can often be repaired without extensive excavation behind the wall and without expensive wall demolition and reconstruction. Instead, an experienced foundation repair contractor can usually stabilize the wall and force it back into proper alignment using wall anchors.
Wall Anchor Installation Steps:

Step 1: Sod is carefully removed and an earth anchor hole is augured.

Step 2: A small hole is drilled through the wall and a rod is driven out.

Step 3: An earth anchor is installed and attached to the rod.

Step 4: A wall plate is attached and tightened, seating the earth anchor.

Step 5: The hole is backfilled and the sod is replaced.

Step 6: Anchors can be tightened at intervals and

straighten

the wall over time.
Geo-Lock Wall Anchors Offer the Following Advantages:
They can be installed year-round
Most repair jobs can be completed in one day
Minimal disturbance to your building, lawn, and landscaping
In addition to stabilizing bowing or tilting walls, the repair can often restore walls to a straight, flat condition
Floor joist support is not required for foundation wall repairs
Wall plates are easy to conceal when finishing a basement
Most Geo-Lock repairs can be warrantied for the life of the building
No maintenance is required
Restores property value
How Geo-Lock Wall Anchors Work
A wall anchor works as its name suggests, establishing an anchor point in the soil outside a foundation or retaining wall, and pulling the wall back towards its plumb, flat position by means of a long rod attached to the earth anchor.
The Geo-Lock Wall Anchor System is a highly engineered system for the non-destructive repair of walls that are bowing, cracking and tilting. The first step in a typical Geo-Lock repair is to dig holes outside the foundation or retaining wall and place an anchor plate in each hole. Next, technicians will drill a hole through the damaged wall for each anchor plate. A galvanized steel anchor rod is inserted through the hole and driven through the soil until it reaches its anchor plate, where it's attached. Anchor plate holes are then filled.
Back inside the foundation (or on the low side of a retaining wall), a large rectangular clamping plate is placed over the end of the rod that protrudes from the wall. Then a nut is tightened on the rod's threaded end to exert clamping pressure on the wall. The tightening process typically takes place in stages, allowing the wall to gradually be forced back to its original position, or very close to it. If expansive clay soil is found outside the wall, some of this soil may need to be removed as part of the repair process.
All the components in the Geo-Lock system are protected from corrosion with a thick galvanized coating. This enables the contractor to warrant a Geo-Lock repair for the life of the building, a factor that provides home and building owners with a high degree of confidence in this repair technique.
Wall Anchor Products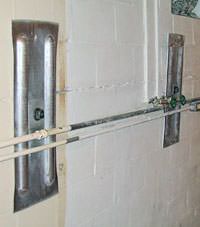 The Geo-Lock™ Foundation Wall Anchor System
This innovative wall anchor system will permanently stabilize your foundation wall by anchoring your walls to the hard-packed virgin soil beyond your foundation.
After installation, wall anchors can often be tightened over time to further straighten your foundation walls and pull them back to their original position.
Advantages Of The Geo-Lock™ Wall Anchor:
Minimal Disturbance to Lawn & Landscaping
Year-Round Installation
Permanently Stops Inward Movement of Walls
Potential To Straighten Walls Over Time
25-Year Manufacturer's Warranty
---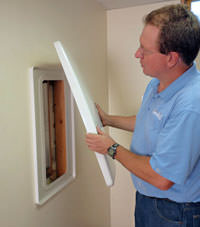 Hide-A-Way® Wall Anchor Covers
If you're planning on finishing your basement after the foundation repair is complete, or you just want to keep your basement looking clean and attractive, Hide-A-Way® Wall Anchor Covers are the perfect solution for you.
Our wall anchor covers are designed specifically for our Geo-Lock™ Wall Anchor System. Thanks to the cover's snap-on design, it can provide quick, easy access to wall anchor tightening bolts, so that further adjustments on the wall anchors can be made.
Advantages Over Stone, Ceramic, and Marble Tile:
Proven, Warrantied, Corrosion-Resistant Wall Anchors
Our wall anchor installations are designed to install quickly and with minimal disruption to your home and landscaping. Many repairs can be finished in a single day. Wall anchor systems are installed by one of our in-house crews of foundation contractors. Upon the completion of our installation, your foundation walls' inward movement should be immediately and permanently repaired.
Our unique foundation wall anchor system is designed with galvanized steel, allowing for long-term corrosion resistance. Each anchor system also includes a 25-year warranty against manufacturing defects, and each installation includes our own performance warranty.
Call or e-mail us today to schedule your free wall anchor installation quote!
More about our foundation repair products.
---
Browse Our Foundation Repair Products
Looking for a price? Get a no cost, no obligation free estimate.